Buckle in my lovelies, this is going to be a long post.
When I got the email asking if I wanted to review Summoned to Thirteenth Grave as well as my favorite Charley book for a tour, my answer was, "Fuck yeah!" Ok, maybe that was only out loud and not in the actual reply. Anyway, I love all the books in the series, so I chose book 11, Eleventh Grave in Moonlight because 1. it's the only book I missed on NetGalley and now I have a copy and 2. it's not so far back in the series that I forgot too much stuff. So it worked out perfectly for me. Included in the tour is some really cool info about the books and a Q&A with Darynda Jones all of which I included at the end of the post for your reading pleasure. Without further blathering, let's get to the reviews.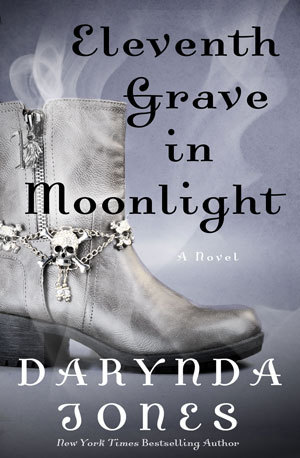 Book source ~ NetGalley
Paranormal | Mystery | Humor
This is a re-read for me for the tour and I really can't think of anything to add or change to my original review, so I'm just going to copy and paste that here. I will say, even though I read this one not too long ago, it in no way detracted from my enjoyment at revisiting it again so soon. This is the kind of series that I can see myself reading over and over again and never getting tired of it. Ever. If you haven't started this series then I highly suggest you get crackin'. Because, seriously? You don't know what you're missing. And I may have to beat you with a long-tasseled bookmark if you don't get started. Just sayin'. *winks*
Charley Davidson, grim reaper, PI, and goddess, is back to work. Balancing cases, goddess-type stuff, and helping the dead is not easy work, but Charley soldiers on because she needs to do her thing so her daughter can do her thing when the time comes. And amongst all the supernatural stuff, Charley needs to keep her uncle alive and out of hell and take care of Amber's problem. But she can handle it, right? Right?
When I started this book, I panicked because I felt a sense of dissatisfaction at the direction the series was headed. All of this god and goddess stuff and thousands of dimensions makes my head hurt and I was afraid I'd end up falling into a deep pit of dontcare-itis by the end. However, for the most part, this book has Charley going about her usual business with the goddess stuff, while not taking a total back seat, at least muted a bit. The pre-ending seemed a bit rushed, but omfg, that for realz ending?! Holy shit! Lots of mystery, humor and hotness as per usual and I'm happy to claim I stayed well away from that nasty mid-series pit. I am very much looking forward to the next book and see how Charley fixes the mess she and Reyes just made. In the words of George Takei: "Oh, MY!"
Book source ~ NetGalley
Paranormal | Mystery | Humor
Charley Davidson broke the only rule she was supposed to follow and God (yes, Him) flicked her like a bug into a Hell dimension as punishment. Ok, maybe he didn't actually flick her. He may have whisked her. Or scooted? Anyway, after 100+ years of exile she's back and she's not sure what she's missed more: Reyes, her daughter, her friends or coffee. But just because she's been gone doesn't mean shit hasn't hit the fan and now she has to roll up her sleeves, assuming she has sleeves, and get to work.
I finished this epic final installment of an even bigger epic series and all I could hear is the Doors playing The End. That was a stupid ringtone I picked for my phone, but anyway, I'm sad to say it is The End for Charley's adventures. However, I left the last page behind with hope in my heart that there will, at some point, be a book/trilogy/series featuring the ever adorable Beep and her army facing off with Lucifer.
I laughed, I cried, I snorted, I drooled, so it was a typical Charley book in that respect. But I was also floored by a certain revelation. Woo doggie! I totally did not see that coming. And that thing, at the end? I never would have thought of that! So, goodbye for now, my friends. I hope to see you again soon in another dimension. Or installment. Or whatever. Oh, who am I kidding? I'm totally going to re-read this entire series and soon, so get some cookies and put on the tea!
New York Times
and USA Today bestselling author DARYNDA JONES won a Golden Heart and a RITA for her manuscript First Grave on the Right. A born storyteller, she grew up spinning tales of dashing damsels and heroes in distress for any unfortunate soul who happened by, annoying man and beast alike. Darynda lives in the Land of Enchantment, also known as New Mexico, with her husband and two beautiful sons, the Mighty, Mighty Jones Boys.
A FUN FACT FOR EACH OF THE CHARLEY BOOKS:
First Grave on the Right
·
The concept for First Grave came about while Darynda was working as a sign language interpreter in her hometown. She stole many of the names from students at the schools where she worked, including Reyes, Garrett, and Amber. As far as Darynda knows, they have all forgiven her for her thievery.
Second Grave on the Left
·
Uncle Bob is a combination of two people: Darynda's oldest brother, Luther, and the principal at the high school where she worked for several years.
Third Grave Dead Ahead
·
This was originally titled Third Grave Straight Ahead, but Darynda's web designer, Liz Bemis, asked her to change the name to Dead Ahead. Firstly, it fit the content better, and secondly, Liz got tired of spelling the word Straight wrong while updating the website. Dead is much easier to type.
Fourth Grave Beneath My Feet
·
Quentin Rutherford makes his first appearance in this book. While his first name was stolen from Darynda's little brother and his last name stolen from yet another Jr. High student, Quentin is physically sculpted from her oldest son, Jerrdan, a bona fide blond-haired, blue-eyed devil with a sparkling smile that melts even the staunchest of hearts. And, like Quentin Rutherford, he was born Deaf. Not that he let it stop him for a second.
Fifth Grave Past the Light
·
This book was fun to write! Darynda was trying to come up with something truly creepy to throw into the book, and she figured what would be creepier than having an apartment full of departed women crawling up the walls, skittering across the ceiling, and huddling in the corners? Also, it is one of the hotter books, so that was fun, too. Because, you know, Reyes.
Sixth Grave on the Edge
·
Darynda really wanted to open this one on a humorous note. She wanted to have Charley on a stakeout with a departed elderly man, who also happens to be naked, riding shotgun. Which begs the question: Are we really stuck in (or out of) whatever we are wearing when we die for all eternity? 'Cause that would suck.
Seventh Grave and No Body
·
Osh'ekiel was originally supposed to be in one book only. And he was supposed to be a very bad guy. But Darynda fell in love with him while writing the book and decided to redeem him and give him a bigger role. Just how big his role would become didn't come to Darynda until plotting Eighth Grave. He has been one of her favorite characters since she wrote that first scene with him.
Eighth Grave After Dark
·
Darynda wanted to really turn the tables on Charley and force her to have to stay in one place, thus the sacred ground of the convent came into play. It was fun and challenging to write a "locked room" mystery, so to speak, but that's why she loves writing so much.
The Dirt on Ninth Grave
·
One of Darynda's favorite books in the series, she looked forward to writing this book ever since she came up with the concept while plotting Sixth Grave. Part of what makes a romance so fun is the falling-in-love part, and she wanted Charley to fall in love with Reyes all over again. This book was doubly fun because the audience knows all the characters' backstories, and they get to watch in anticipation as Charley slowly unravels the mysteries of her past, while seeing her fall head-over-heels for the same guy all over again.
The Curse of Tenth Grave
·
This book had one of those too-close-for-comfort calls. Right before Tenth Grave went to print, after going through editors and copyeditors and readers of all shapes and sizes, a savvy proofreader let Darynda in on a little secret: A Sherpa is part of a culture, not an occupation. Thanks to this razor-sharp reader, Darynda narrowly escaped insulting an entire culture in one fell swoop. Aka, her worst nightmare. Her gratitude is unending.
Eleventh Grave in Moonlight
·
Darynda dreamed of going to Scotland for so long, she finally decided to just put it in one of her books. She had Charley accidently materialize in the magical country, only to find out weeks after finishing the book that she would finally get to go there herself. In person. For realsies. It was even more magical than she'd imagined it would be, and she can't wait to go back.
The Trouble with Twelfth Grave
·
This book has one of Darynda's favorite epiphanies EVER!!! She thought, what if someone out there in the universe, a child perhaps, knows everything about Reyes and Charley? Everything starting from their supernatural heritage to their human identities? And what if that person wrote a book about them? Or a series of books? Say, perhaps, a set of children's books and Garrett just happens to stumble upon them while doing research? How fun would that be? And the international bestselling children's book (fictionally speaking) The First Star was born.
Summoned to Thirteenth Grave
·
By far the hardest story in the series to write, penning the last Charley book was a bittersweet experience. But Darynda knew she had to go big or go home, so what better way to go out with a bang than to end the world as we know it by starting the zombie apocalypse? Because that's what writers do. We start apocalypses.
How did you come up with Charley?
So, I'm lying in bed one morning, waiting for my turn in the shower, when Charley popped into my head in all her glory. I loved her from the get-go. I will add that I was looking for her. I had just typed The End on my second complete manuscript, a YA titled Death and the Girl Next Door which later sold to my amazing editor along with the Charley books. So, I was craving another project. I knew I wanted it to be adult and paranormal. That was all I had. And then Charley walked in.
What has it been like to planning and writing this series, and how does it feel to be wrapping it up?
I had no clue! I dreamed, of course. We all do that. But for that dream to become a reality…it's quite surreal. I have the best job in the world. Planning and writing the last two books have been bittersweet. I love writing these books so much, so the fact that it's coming to an end is a little heartbreaking, but I want to go out with a bang. Like a HUGE one. I hope everyone loves reading them as much as I've loved writing them.
Are there any side characters or plots you wish you would have developed more?
Actually, yes. In Fifth Grave Past the Light, I brought in a character named Nicolette Lemay, gave her an insanely cool gift, then never brought her back in again. We see her briefly in Twelfth Grave, but I wish I'd done more with her.
Can you give us a sneak peek into how it all ends? What do you hope readers feel as they reach the last page?
I am very hopeful that readers will feel a sense of happiness, closure and (dare I dream?) euphoria. All I can say is that this book is truly darkest before the dawn. Charley and Reyes have accidentally opened a hell dimension within our own, and they have to figure out how to close it before it takes over the world. But it's expanding exponentially, and soon there will be nothing left of the world as we know it. But with a little help from Charley's departed mother, one clue leads Charley in the right direction and, hopefully, to the secret to stopping the hell dimension and save all of humanity. Sadly, she only has three days to do it.
What's the next project you're working on?
Right now I am working on a brand new series, a trilogy set in a small town in New Mexico with a sheriff named Sunshine, a missing girl named Olivia, and a murder suspect named Levi. Too bad she is in way over her head, especially since the missing girl is her daughter's best friend and Sunshine has been in love with Levi since she could breathe.