The Sunday Post is a weekly meme hosted by

Kimberly @ Caffeinated Book Reviewer.

~ Recap the past week ~

~ Show what's upcoming ~

~ Share news ~

~ Display book hauls ~
Monday ~ Review ~ Call Me Daddy by Kelly Stone Gamble
Wednesday ~ Review ~ Orchids and Stone by Lisa Preston
Friday ~ Review ~ Shifted in Seattle by Lisa Medley
Sunday ~ Meme ~ AVR Weekly News ~ 205th Edition
Hello and Happy Sunday!
On the Home Front: Busy, busy, busy. I hate my life right now. We did have a Family Fun Day on Friday. We saw Spider-Man (how adorable is Tom Holland?!) then had custard at Freddy's.
Then in the evening we went to watch the Greensboro Grasshoppers. It was so fucking hot and the Grasshoppers lost. But then there were fireworks which were pretty fantastic.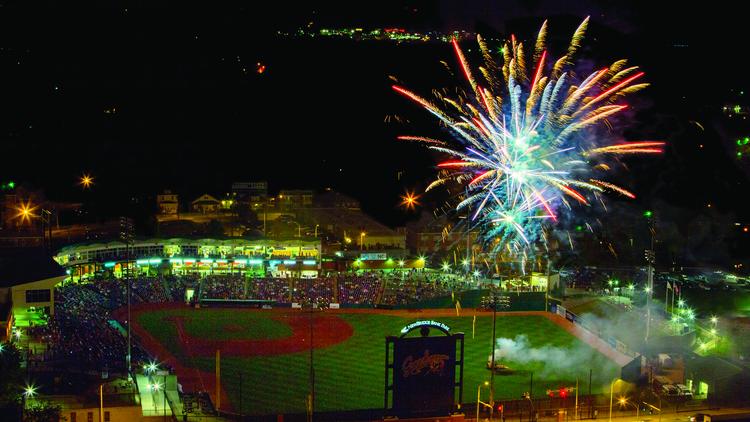 Ok, so these aren't the fireworks from our particular game, but it is our stadium and they are that cool. They do fireworks after every Fri. and Sat. home game.
I have no plans to go ANYWHERE today. Seriously. I'm done. I have more shit to do this week, but no one has any appointments, so YAY!
Touching Nature: It's hot. H-O-T. Fuck this shit. No, really. I mowed yesterday. I had sweat everywhere. It wasn't dripping, it was running flat out. When I came in I took my temperature, you know, just for the hell of it, and it was 100.9º. I even mowed in the shade! Well, mostly shade. About 85% was shade. But I push mow, so I was dead when I came in.
Book News: I have 2 reviews to write and I'm almost done with another book. I drafted some blog posts, but other than that, I got nuffin.
Don't Touch That Dial!: No time for tv watching this week.
At the Flicks: Spider-Man: Homecoming! Great movie!
Cyberspace Playground: I did no cyberplaying.
Randomness: I LOVE THIS!
Carol's Nuggets of Wisdom: You know how Yoda says: "Do, or do not. There is no try."? Well, fuck him. I want you to always try. Try your fucking best. You don't have to succeed or if you do, it doesn't have to be pretty (though it's okay if you succeed your ass off), but I expect you to at least try.
That's it for me. AVR News Update signing off. May all your books enthrall you.