My monthly review of that sub-sub-sub genre of erotica ~ monster porn.
I read them so you don't have to.
Mature ~ 18+
*Book source ~ Kindle Unlimited
I'm pretty sure you unzip a fly, not flies. This author likes to use the word "bean" instead of clit and I'm sitting here wondering what kind of bean. Kidney, pinto, lima, garbanzo…
Plowed by the Abominable Snowman
~ 2 ~ I don't like Sarah.
Mating with the Mummies
~ 2 ~ This was kinda dumb.
Ridden by the Unicorn
~ 2.5 ~ Step siblings doing it in a threesome. Is a unicorn really a monster?
Pounded by My Plushie
~ 3 ~ Girl on girl and a stuffed toy. Not a teddy bear, but more like what I picture as being like Puppet Angel.
Filled with Spill
~ 2 ~ Stepdaughter/stepfather, no monsters
The Alien I Grew Up With
~ 2 ~ Aliens are normal on Earth? Huh.
My Naughty Yeti Boyfriend
~ 3 ~ Sorry, but I think it would take more than 7 wax strips to defur a yeti ass.
Publicly Knocked Up Hard
~ 2 ~ Meh. Pretty dumb. And again with the unicorn?
Party with the Pack
~ 3.5 ~ Cuckhold. One of my favorites.
There are many, many, many more stories in this book, but I gave up at 20%, right before the 10th story. The title story ended at 2%. The rest are ho-hum and not always very monsterish.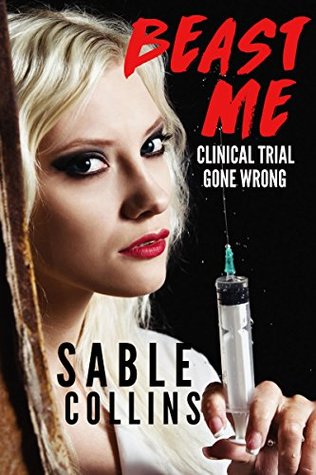 *Book source ~ Kindle Unlimited
Medical researcher Michelle gets results she never expected from the company's new drug, Phenosec.
So, this drug is supposed to cure mental illness and it looked promising up until the last dose. Ooops. That last one is a doozy because think Captain America's transformation, but more monsterish and Neanderthalish. The editing is terrible. The writing is mediocre. The story is short (it starts at 9%, ends at 29%), has a bonus story I didn't bother reading and the rest of the book is packed full of author junk that should be on the author's website and not crammed into a book. Skip this one. There's really nothing to see here.
Book source ~ Kindle Unlimited
My Rating ~ 4 bites and a nibble
Book 3 in the Carolina Ford Adventure series has Doctor Ford and her partner, Doctor Phillip J. Scott, hunting for Pteranodon/Man hybrids in Florida.
Another entertaining and hot monster read! Carolina "Carlie" Ford is spunky, funny, and unashamedly sexual especially when it comes to monsters. They make her hot. In her words…whoouf, something that I find myself saying in my head using Madeline Kahn's voice. The mystery in this one deepens and Phillip is hot as always. I hope Carlie and Phillip keep hunting monsters because I love these guys!