My monthly review of that sub-sub-sub genre of erotica ~ monster porn.
I read them so you don't have to.
*Book source ~ Free on Amazon
Series ~ Katie Experiences, #1
Published ~ 19 April 2014
My Rating ~ 4 bites and a nibble
Katie is excited when she learns she's been chosen for a video game immersion. Once in the game she quickly realizes a few things. 1. She needs to find out the object of the game 2. She needs to find other players 3. She needs to build experience fast because she's dressed only in her underwear and has only 1 skill (fire) and 4. She's experiencing everything which makes her wonder if she dies in the game will she die in real life? Well, shit. Leveling up has just become priority #1.
I'm not all that great at them, but I love video games. How cool would it be to actually go inside a game and play from there? Well, except for getting hurt or dying. That wouldn't be very cool. Katie learns that she needs to find 5 artifacts and in order to gain experience she can either make alliances with monsters or kill them. As a level 1 mage encountering her 1st monster, she has no other choice but to make an alliance. The slime monster demands sexual satisfaction in exchange for an alliance and while Katie is icked out, she soon finds herself in orgasmic heaven. Ewwww! Slime is so gross! But what's a girl to do? Decently written and creative (yeah, I'm partial to video games even if I'm not to slime) I'm looking forward to finding out how Katie's quest proceeds.
*Book source ~ Free on Amazon
Series ~ Fairy Tale Erotica, #1
Published ~ 21 April 2012
My Rating ~ 4 bites
Jackie is a nymph and she's been sent to find a root to cure her mother who is sick from all the rain. Instead, she's tricked into trading the root for some magic beans. Luckily for Jackie the magic beans really are magic and she uses the beanstalk they grow to climb straight up to see the Storm Giant who is causing all the rain. The Storm Giant is willing to negotiate, but will Jackie survive the terms?
Well, she survived being violated by the beanstalk on her way up and the Storm Giant says that nymphs have that effect on beings. Um, that kinda sucks, putting off a vibe or whatever that makes every living thing want to shag you senseless. Sounds exhausting. Anyway, Jackie and Ulf, as he's called, have an interesting experience with a twist that makes it possible for a giant and a nymph to do the cloud mambo. There are a few errors, but nothing horrendous. This is a quick enjoyable bit of monster porn even if the woman is a nymph and not a human.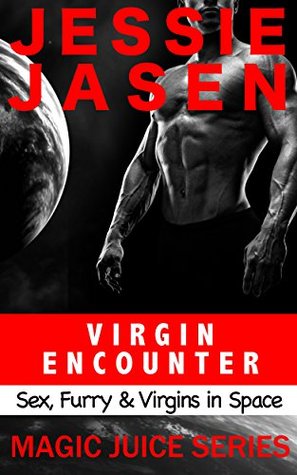 *Book source ~ Free on Amazon
Series ~ Magic Juice series, #1
Published ~ 19 March 2016
My Rating ~ 4 bites
Concordia Shagger finds out from friends that her fiancé Tom is a lying cheating asshole who is, she's pretty sure, only out for her family money. She'd planned on giving her virginity to him on their wedding night, but now she just wants to find some stud to get rid of it. Taking her space ship, Lioness, out for a spin to clear her head, she somehow flies off course when she falls into an exhausted sleep. Ending up in the forbidden Krypt territory, Concordia hopes she can negotiate her safe return to her home planet. Oh, and not be violated by the ape-like creatures who have a taste for human women.
Concordia Shagger, what the hell kind of name is that? I rolled my eyes each time I had to read it. *snorts* Anyway, the Krypts are a furry species and Chlamydia's gov't makes it illegal to even go in their space, let alone have sexual relations with them. Consensus has heard horrible stories about them, but Jaxon, the one who captures her, is nothing like she's been led to believe. In fact, the whole planet is nothing like she expected. Can't trust the gubermint. What else is new? When Jaxon proves to be a domineering yet gentle lover, Concubine becomes a Krypt convert. Oh, and let's not forget the magic juice that is their cum. Yep. You read that right. Magic.Juice. I can't wait to read more about that. Sorry about the name confusion. I was trying out different ones because Concordia is just…*sigh* Anyway, Conky is pretty happy with her devirginizing. It'll be interesting to see where this series goes next. *walks away mumbling magic juice*