Join me as I review books from days gone by.
A collection of comic strips featuring six-year-old Calvin and his tiger Hobbes as they live, laugh, love, invent and generally get into all kinds of mischief.
Calvin and Hobbes is my favorite comic strip of all time. Calvin is a precocious kid and his tiger Hobbes is a stuffed tiger around anyone except him. To him, Hobbes is alive. He's Calvin's comrade in arms, confidant and best friend. The things Calvin gets into, thinks up and the philosophies he spouts can be insightful and/or hilarious. I can never get enough of the entertaining duo.
*Book source ~ Home library
Published ~ 1 January 1993
Genre ~ Comics | Graphic Novel | Humor
My Rating ~ 5 bites
*Book source ~ Home library
Published ~ 1 January 1992
My Rating ~ 5 bites
*Book source ~ Home library
Published ~ 1 January 1987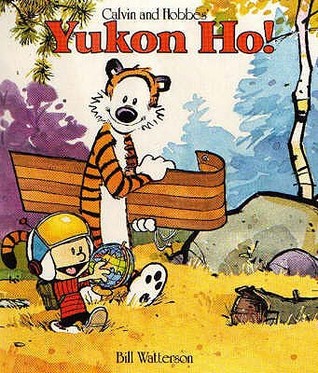 *Book source ~ Home library
Published ~ 1 January 1989
*Book source ~ Home library
Published ~ 1 January 1988
*Book source ~ Home library
Published ~ 1 January 1990
Rating ~ 5 bites
*Book source ~ Home library
Pages ~ 176
My Rating ~ 5 bites
*Book source ~ Home library
Published ~ 1 September 1994
Pages ~ 176
My Rating ~ 5 bites