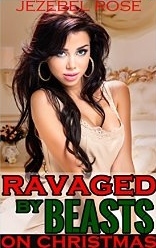 *Book source ~ Kindle Unlimited
Series ~ Beastly Erotica, #7
Published ~ 27 November 2014
My Rating ~ 1 bite
It's Christmas morning. Jessie and Dave are alone. But not for long. Two beasts are about to have themselves a real good Christmas.
Smiling to myself, I carefully wrapped Dave's present with care. This will certainly be the best Christmas ever! Now that I'm finally 23, my parents will let me move with him I bet.
23. She's 23 and her parents won't let her move in with her boyfriend. At 23. When most people are out there on their own, you know, being an adult. It all goes downhill from here, folks.
I can't even. Literally. This is horribly, terribly bad. And not in a good way, as you would normally expect monster porn to be. The writing sucks. Was this even edited? Not bloody likely. Besides poor grammar, sentence structure, no transitions, shitty plot and zero character development, the author cannot keep track of body parts, clothing or condoms. Plus, Jessie is flipped around so many times I was expecting her to get whiplash and the contortions her body was put into were better than any gymnast I've ever seen. At one point there was even an extra cock floating around! Where the fuck did that come from?! She has three holes and there's only two beasts. No problem. Ninja cock sneaks in to save the day!
And Dave? Poor, afterthought, redundant, Victorian-era outraged Dave who was tied up in the basement for hours and hours, but only manages to get loose after Jessie has been thoroughly fucked. He should have dropped that whiny-assed, bratty bitch the night before. Do not, I repeat, DO NOT, waste your time with this one. This is my Public Service Announcement. You're welcome.
*Book source ~ Kindle Unlimited
Publisher ~ Summer O. Lee
Published ~ 18 November 2014
My Rating ~ 4 bites
Klara and her friends are visiting the German village of Rutendorf. During the feast of St. Nicholas, Klara gets separated from her friends during the festivities, but meets a mysterious handsome stranger named Hans. Is Klara a nice girl or a naughty girl? Because naughty girls will get punished by Krampus.
This is a decently written monster porn story with a monster I hadn't yet encountered. Krampus. Have you seen pictures of him? Ewww! *shudders* Anyway, there's not a lot of plot to the story, but what there is advances it to the good stuff. Klara is most definitely a naughty girl (at least for that evening), but who can blame her?! Hans sounds yummy. I like the twist at the end, too. Although some might consider it a bit of a cheat in the monster area. I'd most certainly read more wicked tales by this author.
*Book source ~ Kindle Unlimited
Published ~ 16 December 2014
Recently single, Karen decides to spend Christmas alone in a secluded cabin. She's stocked up on supplies, so the snowstorm that rages outside doesn't bother her. Until she hears footsteps on the front porch and the door crashes open! She's not prepared for the huge white-furred beast who enters. Alone and secluded, not very good things to be now. What will she do?!
What will she do? She dominates the huge beast, that's what. Nom nom nom! And they have unprotected sex. Uh, oh. That can't be good, but we'll worry about the consequences later. Because monster sex! And lots of it! And for once the human is the one in charge. Yay! Nicely written even if it is short. I didn't like the ending though. Where did the beast go? I was looking forward to more banging and more detailed domination. I'm sad.
Side note: I know the blurb for this on Goodreads and such says Karen submits to the Abominable Snowman, but that is not what I read. Except for when he first breaks in, she's very much in charge. I want more stories like this.
*Book source ~ Kindle Unlimited
Published ~ 15 December 2015
It's Christmas Eve and Clarise is waiting for her husband to get home from work. While she waits she bangs the garden guy, takes a shower, has a glass of wine, opens a present and then gets the surprise of her life when a nasty, multi-tentacled monster comes down the chimney and introduces himself as Krampus. And we all know that Krampus punishes naughty boys and girls. You gotta feel bad for Clarise. Or maybe not.
First off, this is yet another story that short changes the reader. It starts at 22% and ends at 80%. No. Just, no. This is evil, inappropriate and pisses me off. I picked this up through KU, but if I had purchased it I would have returned it. Huge no-no and a fine way to alienate your readers. Don't do this.
Now, to the story. Krampus has himself a right naughty girl to punish. Clarise is cheating on her husband with the garden guy. *tsk tsk* She's gonna get it. But Krampus makes her tell him all of the dark things she really wants, so how exactly is he punishing her? Never mind. It's vile, nasty, hot, tentacle BDSM monster sex. Woot! Fairly well-written with only a few glitches this is quite the scorcher. *fans self* It's a little rougher in the BDSM department than I like to read, but it's hot all the same. I mentioned the tentacles, right? I'll definitely check out more by this author.