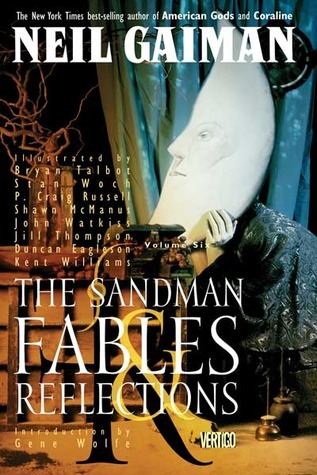 Published ~ 4 January 1994
Genre ~ Fantasy | Graphic Novel
FABLES & REFLECTIONS follows the Lord of Dreams through nine remarkable tales as he touches lives from the mists of the past to the nightmares of the present. In these episodes, kings and spies, emperors and actors, ravens and werewolves all share their stories and their dreams--dreams of life and love, and of power and darkness.
Overall not a bad volume. The illustrations of Dream are sometimes weird and Despair is creepy at all times. I love how each of The Endless have their own font.
Fear of Falling
~ Good advice for everyone.
Three Septembers and a January
~ I had to look this up to see if was an actual fact or complete fiction. Who knew?
Thermidor
~ Truly strange.
The Hunt
~ Grandfather telling granddaughter a story. Love it!
August
~ Pretty interesting.
Soft Places
~ Totally bizarre.
The Parliament of Rooks
~ I hate Cain. Seriously.
Ramadan
~ Well, that's a twist I didn't see coming.