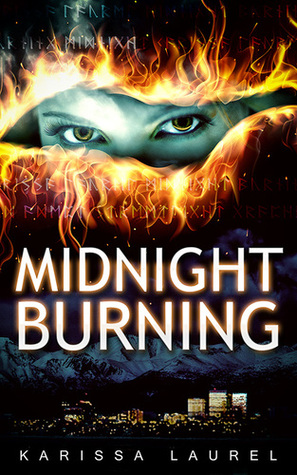 *Book source ~ A review copy was provided in exchange for an honest review.
My Rating ~ 5 bites
25-yr-old Solina Mundy has never been far away from her small North Carolina home, but when her twin brother Mani is murdered in Alaska she heads there to settle his affairs. Since she had a nightmare (or was it a vision?) the night of Mani's murder, she's also hoping to find answers as to who and why someone would kill him, something the police have had zero luck accomplishing. Meeting his friends and co-workers leaves her with more questions than answers and now someone is gunning for her. Pieces slowly fall into place and Solina learns things aren't what they seem. Not by a long shot. One thing is certain though; she needs to get up to speed and fast because her life, the lives of her friends and, in fact, the whole world are depending on her.
Ok, seriously? This is Karissa Laurel's debut novel? Because…damn! Before I dive into the review let me say that I came so very close to turning away the tour for this book. Not because it didn't interest me because it did, but because I've been limiting the tours I do this year due to burn out. I didn't think I'd have the time or energy to deal with a deadline, but I couldn't make myself delete the tour invite from my inbox. Finally, I told myself to make a final decision. And now here I sit, finished book in hand, slack jawed, suffering from book hangover and wishing for some hair of the dog. Or maybe wolf. I needs the next book! Gimme!
Wonderfully written, I was drawn into the story from the very first page. The plot grabbed my attention and didn't let go. So many questions! And the author doles out tiny bits of information as if she is imitating Scrooge himself. I wanted to peek at the end so badly! And that is a sign that I'm hooked well and good. The higher my need to peek the better the book is and the Peek-O'Meter was going off full tilt. Brimming with mystery and suspense this story is steeped in Norse mythology. With kickass characters and some romantic possibilities there's a bit of something for everyone. But that ending? Ho-ly shit! That ending! You're killing me Mizz Laurel. Killing. Me!
Karissa Laurel always dabbled in writing, but she also wanted to be a chef when she grew up. So she did. After years of working nights, weekends, and holidays, she burnt out and said, "Now what do I do?" She tried a bunch of other things, the most steady of those being a paralegal for state government, but nothing makes her as happy as writing. She has published several short stories and reads "slush" for a couple of short-story markets.
Karissa lives in North Carolina with her kid, her husband, the occasional in-law, and a very hairy husky. She loves to read and has a sweet tooth for speculative fiction. Sometimes her husband convinces her to put down the books and take the motorcycles out for a spin. When it snows, you'll find her on the slopes.
Karissa also paints and draws and harbors a grand delusion that she might finish a graphic novel someday.